Always Included Features
The line of PixelBooth features is ever expanding. Here are our current offers!
---
True Unlimited Printing
Photo strips are printed on glossy photo paper using a high quality dye sublimation process. There is no limit on the number of photo strips that will be printed. Each guest in each photo strip will receive their own copy so everyone will a piece of their own memory!
---
Custom Templates
Our beautiful, high-quality prints are customized with your event logo and personalized with your names. Whether you are throwing a wild birthday party or planning an elegant wedding, we will work with you to design a custom template and logo for the photo strips that will fit with the theme of your event.
Click here to see some Template Samples!
---
Instant Prints
The photo strips prints in seconds, giving you and your guests instant laughters. After the four poses for the photo strip are taken, all it takes is 10 seconds for our high quality prints to be ready for your guests' enjoyment . The short printing time also ensures that lines for the photo booth will be short and guests will be happy.
---
Online Access
Our one-of-a-kind online distribution system will allow guests access to their own photo strips and original prints. Within a week of the event, we will distribute the access codes to all guests who left us with their e-mails, which would grant them access to their photos. Keeping in mind the importance of privacy, our system is designed so only guests who appear on a photo strip will have digital access to that particular photo strip and original photos.
---
Soft Box Lights
Professional grade lighting equipment is set up along with the photo booth. This will eliminate the harsh light and colour from a flash, giving your guests beautiful photos as keepsakes from the event.
---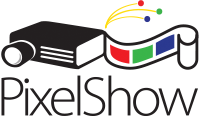 PixelShow is a dynamic slideshow of all photos taken inside the booth. As your guests use the booth this dynamic slideshow will grow.
PixelShow is a wireless feature add-on for PixelBooth. A large LCD TV will be place outside the booth for your guests to enjoy the slideshow. If your venue has a projection system, we can work with your coordinator to connect PixelShow to the venue's system. Pictures are actively monitored by an attendant.
Learn More!
---
Setup and Tear Down
Set up and tear down the photo booth is quick and included in the price. It will not be counted towards operating time. Please allow approximately 45 minutes each for set up and tear down of the photo booth.
---
On-Site Attendant
There will be on-site attendants for the photo booth to ensure that there will be no hiccups in the operation of the photo booth and continuous enjoyment for your guests.
---
Lots of Fun
Whether aged 8 or 80, all will appreciate the simplicity of PixelBooth. Everyone will be rushing in for their turn!
Optional Features
Make your event extra special! Following features are available for an additional fee.
---
Personalized Backdrops
Add some personal flair to your Photo Booth! We offer custom personalized backdrops for your event. Please ask us about options and pricing.
---
PixelMemory is an on-the-spot designed scrapbook.
As your guests use the photo booth, a copy of their printed photo strip will be placed into a scrapbook. They can then sign and leave messages near the photos for you to cherish for years to come. Just provide us with a scrapbook that you personally choose, and we'll help you compile it with photo strips and guest messages on the day of the event!
Learn More!