At PixelBooth, we strive to ensure all of your guests receive the utmost care and the highest standards in photo quality, print quality, and private online access. Our slideshow service is unparalleled and constantly being improved.
Here are some of the key things about our service that differentiate us and what you can look out for when dealing with other companies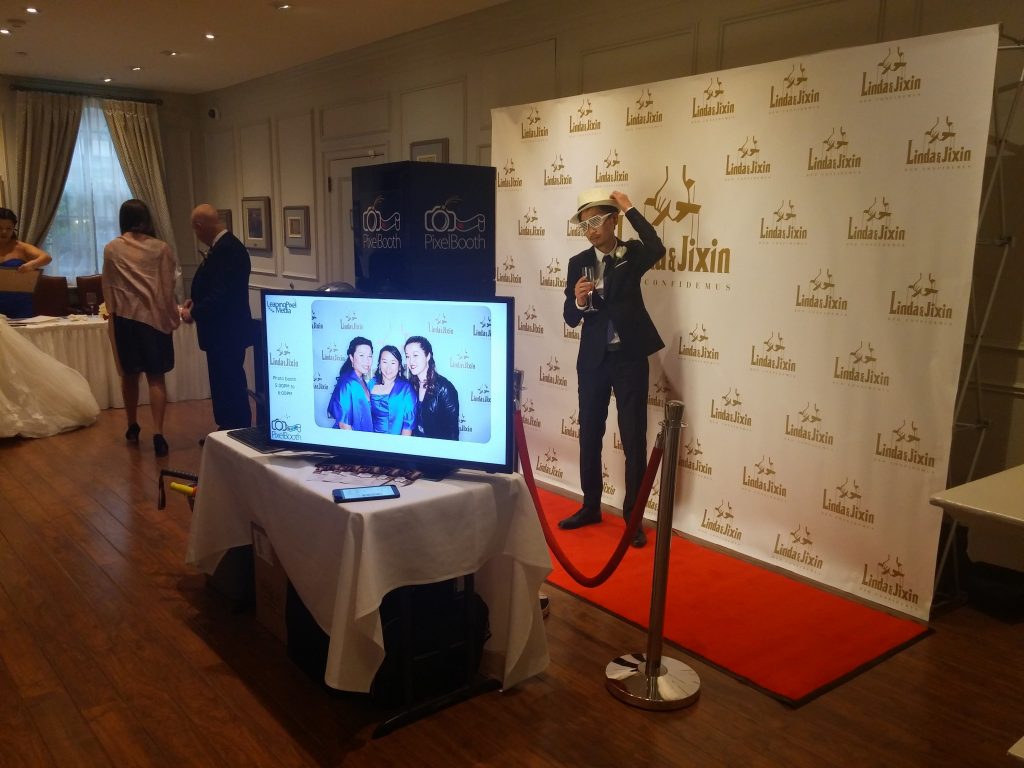 Professionally design booth
Our booth is designed by our own engineers to provide a simple to use interface with a large touch screen and concise instructions.
When you discuss with other companies make sure you see the booth.

Sometimes it is just a laptop on a table - while the final output may be similar, the experience is far from that of a photo booth.
Clear photos of our booth are available our website www.pixelbooth.com
High quality images
As photographers we calibrate and manually set our professional DSLR to provide the best possible photos in the lighting at your event.
We also include beauty lamps and professional flash technology.
Be sure that your photo booth company is trained in photography and that they don't just use "Auto". They may also be using a computer webcam.
Lab quality printing
Our printer is a high quality, Japanese engineered, dye-sublimation printer with an overcoat protective layer. Our ink will not smudge.
Make sure that your photo booth company does not use ink jet or laser. These technologies were never meant for photo printing.
Unlimited Printing
We ensure that every guest gets a copy of the photos that they are in.
If there are 2, 5, 10 people in the booth, we will print out enough photos for each of them
Make sure that there are no limits or restrictions in the printing; many company are advertising unlimited for the booking, but limit the prints for each session
Private online distribution and sharing
We never post your photos into a publicly available album on Facebook or any other social media network.
We provide your guests with the opportunity to have a 1 time email from us with a secure link to all of their photos.

From there they may choose to share their photo strip if they choose or keep it private.
They also gain access through a password protected area to their high-resolution original pose images.

Online access is typically available within 5 minutes of using the booth (subject to network availability), and guaranteed to be available within 6 hours of the end of your event.
Many other companies will provide you with one code to access all photo strips, others do not even use codes and have them publicly available on social media. Sometimes the wait is up to a week for online access!
Pricing
There are no hidden fees in our pricing, and all taxes are included.
Many companies do not include taxes and other hidden fees in their pricing
Unique Features and Options
PixelMotion

Animated photo sessions
These animated images are posted to our secure site and accessible only by the host or by each guest with the secure code.

PixelPass

A simple card that each guest uses throughout your event and collects all their digital photos together.
Guests can go to our website and see a personalized album just for them! Safe, secure, and personal.

Instant Downloads

Our secure and private online access system makes photos available to guests within 5 minutes of using the booth.
Instantly access your guest photo strip or personalized guest album on our website and see all the high resolution digital images
In addition to these services related to the photo booth, our PixelShow slideshow service is an amazing feature that enables you to showcase photos from the booth and your personal photos such as your engagement photoshoot. With our PixelShow Live upgrade you can include Instagram Hashtagged photos making the show and your wedding more engaging and more interactive with your guests.